I've been thinking of letting the kids have a productive summer vacation. Productive meaning I want them to learn something that is not taught in their Kindergarten. Something that could enhance their personality, abilities or talents. I remember during this time in the Philippines, parents enroll their kids to either swimming lessons or anything related to sports, or music schools. I would have wanted them to learn to swim but maybe not this time yet. I want them first to be acquainted to the different bodies of water and let them feel the fun in playing in them and not just from what they have which is a bath tub. 🙂 Now I see my kids' love for music and I was thinking of signing them up to a music school. Although we have given Ryz the Barbie keyboard last Christmas, it was Zyc whom I noticed who is more inclined to music. One feature of the keyboard is called "Role playing". Here, the player is supposed to press the key for each note of the song and I've seen and heard Zyc play with it. And not only in this time I've seen his talent in music. He can easily grasp the tone of a song which he had only listened for just a few times. I even find it funny that he hums the angry birds theme including the tiniest and shortest note he has heard. He listens to every detail in a song. With his talent I wanted him to explore and enhance it.
I would love to give him a keyboard of his own like the ones from  Waldorf Keyboards but I guess he's too young for such kind of instruments. I've seen the features of one of their products and even I couldn't understand what are they. Haha! Although it claims to be user-friendly I think it will take time for Zyc to be able to understand how to maximize its functions and capabilities.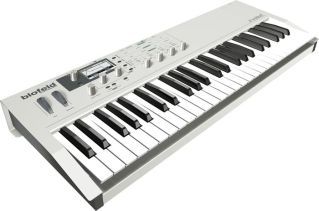 For now, I will just let Zyc enjoy what he has, his talent. And hopefully as he start in the music school and learn to play a keyboard he will grow and continue to love music like how he does today.