Finally, hubby's home safe and sound. The kids have been waiting for their Daddy since yesterday and kept on asking what time will he arrive, especially Zyc. I'm very excited especially all the things I requested for him to buy for me and the package that my friends sent for me are already here. Oh well, I also miss him. Haha!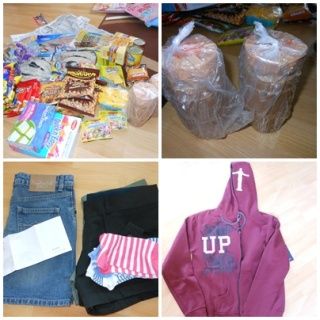 Clockwise: All that were left from the grocery hubby bought from the supermarket. I was right, his baggage exceeded from the maximum weight for a passenger. Hubby chose not to pay for the excess baggage and what he did was sacrifice his clothes and items which I didn't request just to bring the presents from my friends. Like the two bottles of homemade peanut butter. I requested this from my officemate, Harlene. She once brought one in the office and I just loved it! The hoodie was given by my brother-in-law who's teaching in UP and at the same time taking up his Masters Degree. Hubby also has one. The skirt was also given by my former colleague, Jackie who has gained weight and thinks this won't fit her anymore. The shorts and socks were given by the wife of a former colleague who has become a close online friend. Included in the grocery is a box of Goldilocks polvoron which I requested also from my officemate, Lizette.
These are just some of the items. I didn't take a picture of all the shirts hubby bought for me but I really am so happy!