Hubby just left for the Philippines. Yes,our homeland and we didn't go with him. As much as we wanted to come along we have no budget for the airfare. I am really sad and so very disappointed. I'm just thinking that the weather is really bad now there and it's better to stay here 'coz we know we'll not be able to go every place as we want (sourgraping here, haha!). Nevertheless, I'm also excited for him because it's been two years since he last went home. Although his trip now is work-related and will only be there for a week, at least he'll have time to spend with my in-laws. And of course, I'm also excited for all the "pasalubongs" he'll bring back here! Yipeee!
We've spent the whole day yesterday buying goodies for our families. I also have some for my former colleagues and friends. These are the ones which my former officemate didn't get to receive on time when he was here last month. He was supposed to bring these to them.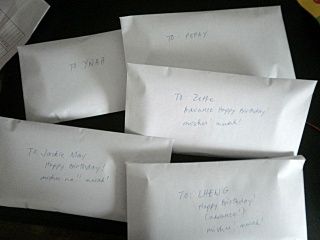 We also bought some groceries and of course we didn't forget the chocolates. Most of the chocolates we bought were Milka chocolates. They are popular here and I think they are not available in the Philippines. And I would not forget Nutella. I sent 3 large bottles and one is for my sis-in-law only. She just loves it. It was a nice feeling knowing that these little things could make some important people happy.
Last night was easy for us to pack everything but I guess hubby will have a hard time when he packs all his things and the ones I requested him to bring here. Hehehe…